Dear figure skating community!
We want to invite interested skaters, trainers and teams to the 2022 CIW Summer Camp in Telfs Austria with top guest trainers from Ukraine. The goal is to use the great team spirit at the camp and the input of the whole team for preparing the new season together. We are inviting especially teams and trainers but also skaters alone, but would appreciate to accordinate the training in cooperation with the main coach of the trainer if possible. We are also offering feedback and a video archive to the trainers of the skaters.

If you are interested to prepare for the camp, there is also the possibility for meeting already before for training in July in Vienna.
First week in Telfs: 25.7.-30.7.2022
Second week in Telfs: 1.8.-6.8.2022

Extended registration till 5.6.2022
Places at the camp will be available in the order of registration!
Disciplines
– Figure Skating
– Singles Ice dance
– Pair Skating (upon request + try out)
Skater Levels
1. Youngsters
We are starting with the youngest skaters, that want to train like more advanced groups (so with around 5 years, if they want and can train 2 hours on the ice and also off-ice)
2. Development group
All skaters that want to improve or work for jumps like Axel and double jumps or have a similar level in skating skills
3. Advanced group

All skaters that want to improve or work for jumps like double Axel and triples or even quads and also want to improve their corresponding skating skills
Topics
– Season preperation together with the trainers of the skaters
– Health oriented long term athlete development (off-ice exercises and theory)
– Short and long term improvement of rotation training in all levels for jumps with a special focus on exercises for improving jump rotation for all levels
– Training and improvement of landings on ice and off ice including exercises for strength training
– Skating skills like ice dancers (posture, knees, ….)
– Video analysis based training including a videa archive for skaters and your trainers/team
– Rules teaching (creating spins, new ISU rules,…)
– Check of programs, components, GOE of the elements by an international judge and a ISU Technical Specialist
– Special ice dance training (upon request with Galina Churilova)
– High altitude training (at the hight altitude training center in Kühtai and around at the mountains above 2000 meter)
Training Info
– Ice training: 3 hours per day (upon request or for smaller kids also 2 hours are possible if wanted)
– Off-training: 2 hours per day (including rotation machine training, health and strength oriented exercises increasing performance, stretching, choreo exercises,…)
– Extra high altitude training for the athletes and kids that want to take part
– Team activities and alternative leisure program like having mountain hikes, playing beach volleyball or going swimming together
Team
– Dmytriy Dmytrenko (guest coach and European Figure Skating Champion from Ukraine/Kiev, choreograph, jump anmd skating skills coach and ISU Technical Specialist)
– Neil Chesterton (jumping coach, specialist in rotational training, harness jumps also for triples and quads, skating skills expert, ice dancer)
– Galina Churliova (guest coach and main coach in the well know ice dance school in Charkiw/Ukraine training at the moment in Vienna with skaters taking part in World Championships or at Olympic Games)
– Oksana Dolgopolova (guest – international judge from Ukraine/Kiev – who will share her experience with programs, GOE, rules,….)
– Georg Mrkvicka (guest coach and great lecturer within the Austrian sport trainer education program specialized on athletic training and athlete long term development
– Michael Ruis (specialized in off-ice, athletic training, rotational off-ice training including rotation machines, video analysis and athlete long term development)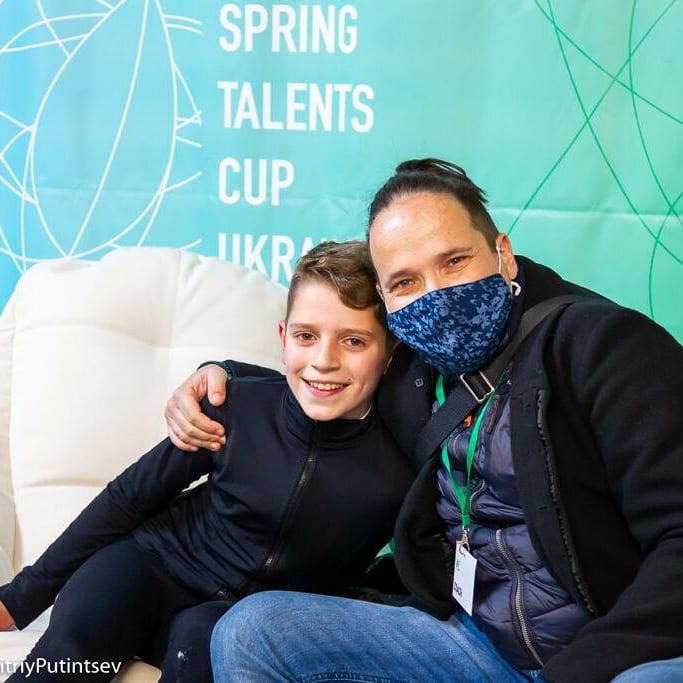 Location
Telfs in the heart of Tirol in the west of Austria near Innsbruck with a good training infrastructure including an 60×30 meter ice rink and a sport center with a gym and other facilities like a swimming pool.
There are many cool places around Telfs. We will assist you in planning a nice holiday.
Costs
Training costs: EUR 420,- for all levels for 6 days of training
Ice fee costs: EUR 90,- (2 hours of ice per day) – EUR 130,- (3 hours of ice per day)
Special packages for teams
Family discount: 50% from the 2nd child (EUR 210,-)
Accomodation
Apartments right around the corner in Harry's home (special package available) for 2 persons EUR 128/night

Apartments in and around Telfs starting at EUR 50/night

Please contact us for more information
Registration/Questions
Michael Ruis
info (at) crystaliceworld. com
T: +43 720 270058 – 205